There must be more information for our Holotome databases…
The Fate of the Father article is a stub. You can help our databases by expanding it.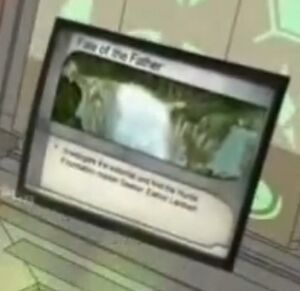 Fate of the Father was a mission assigned in "Doorway to Huntik" to uncover the whereabouts of Eathon Lambert, the father of Lok Lambert, upon discovering his last known location from an Organization file. The Huntik Team travels to South America to investigate the waterfall where Eathon and the Professor fought.
Objectives
Investigate the waterfall
Find Huntik Foundation master Seeker, Eathon Lambert
Ad blocker interference detected!
Wikia is a free-to-use site that makes money from advertising. We have a modified experience for viewers using ad blockers

Wikia is not accessible if you've made further modifications. Remove the custom ad blocker rule(s) and the page will load as expected.